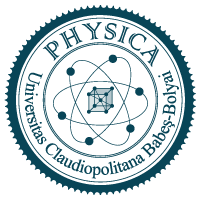 The roots of the higher education tradition in the field of hard sciences, including mathematics and physics, go back centuries.
Physics means "nature" in Greek language also because it deciphers the mysteries of this world, from quarks to the stars, it remains the queen of sciences. The Faculty of Physics proposes to open up a new perspective on the role of physics and of a physicist in our current world.
The Faculty of Physics offers undergraduate programmes of 3 years in the following specialisations: Physics, Medical Physics, Computational Physics, and of 4 years in Technological Physics.
After obtaining an undergraduate degree students can opt for one of the master's specialisations of the faculty, of two years, in the following fields: Solid Body Physics, Biophysics and Medical Physics, Computational Physics
Fields of doctoral studies at the Faculty of Physics: Atom and Molecule Physics, Condensed Matter Physics, Theoretical Physics, Biophysics
Currently the Faculty of Physics owns high performance research and specialized laboratories. Here both teaching and research activities are conducted. Our students work in laboratories alongside academics and researchers in order to prepare their final undergraduate paper, dissertation or doctoral thesis. Ioan Ursu Institute of Physics plays an important role in the research activity and it has been functioning since 1963. Initially established as a research laboratory in the field of magnetic resonance, it has developed over time and nowadays it has several centres and research laboratories which have been engaged in high-level scientific activities, reflected in numerous publications in ISI journals and numerous research grants won in domestic or international competitions.

Our students can thus enjoy a didactic training accompanied by a research performance. This is reflected by the trajectory of students and graduates. Thus, over 80% of the graduates find employment during the first year in partner institutions where students conduct their practical training (INCDTIM, Bosch, Emerson, Continental, Cluj County Hospital, private clinics of imaging and medical therapy etc.) or continue their studies with doctoral and post-doctoral scholarships in prestigious European universities with which our faculty collaborates.
We are proud that each year we open the door to the world of knowledge to new generations of young people!
DEPARTAMENTS