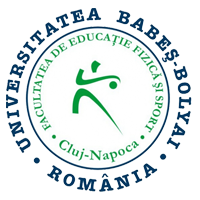 The Faculty of Physical Education and Sport was founded in 1960 within the Pedagogical Institute.
Since 1998, the faculty offer expanded by opening the Kinesiotherapy specialisation. The activity for this specialisation is provided by teachers of the faculty, whereas for a number of specific disciplines we are helped by specialists from the Hospital of Rehabilitation and Neurology in our city which have the status of associates.
In order to support the high performance athletes, part-time and distance learning programmes were created for the Physical Education and Sport specialisation, besides the full time programme.
Among  more or less recent FEFS graduates, there are many prominent figures in the field of sport, of which we mention: Bella Karoly (former coach of the Olympic gymnastics team), Simion Schobel (coach of the Germany handball team, former world champion), Ioanis Tikos and Costas Saganis (coaches of the representative junior basketball teams of Greece), Adelinho Jorge Suares (coach of the youth basketball team of Portugal), Gabriela Szabo (athletics Olympic and world champion), Ionela Tarlea (world champion in athletics), Maria Cioncan (medalist at the Olympic athletics), Simona Richter, Ioana Dinea, Laura Moise (medals in the Olympic and European championships in judo), athletes Nicoleta Grasu, Iloc Cristina, Mihaela Botezan.
UBB graduates of FEFS are recognized by specialized European and world forums, with the possibility of insignificant difference examinations. This recognition proves the compatibility of the faculty curriculum with similar structures worldwide.
DEPARTAMENTS