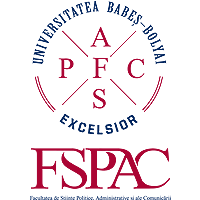 Faculty of Political, Administrative and Communication Sciences (FSPAC) offers study programmes in Public Administration, Journalism, Public Relations and Communication, Leadership, Advertising, Political Science and Public Health. Since the beginning of 1995, the faculty has engaged in a continuous development in terms of education and research programmes, infrastructure, quality of education and extracurricular activities.
The FSPAC mission is to train professionals in the field of political, administrative and communication sciences, achieving a stable connection based on efficiency and effectiveness between the educational process and the labour market. The teaching staff is mainly composed of a young team, trained within FSPAC and further specialised at prestigious universities in Europe and the United States.
The FSPAC programmes of study offer quality education, where teaching, research and extracurricular activities successfully combine with formal and non-formal education. At the same time, students are encouraged and supported to develop their skills acquired during semesters of study through internships within local, regional or national institutions in the field.
DEPARTAMENTS