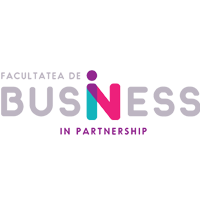 The Faculty of Business offers students two undergraduate programmes both in Romanian and English: Business Administration and Business Administration in Hospitality Services and four master's programmes: Business Administration, International Business Administration, Hotel Management and Business Administration in International Hospitality and Tourism.
All faculty programmes are designed with a unique and innovative learning approach that proved to be successful in preparing businessmen with developed entrepreneurial skills and with the ability to compete at a high level of performance in a business environment under the pressure of rapid change.
The Faculty assumed the objective of its students: their success is the success of our faculty. Therefore, each programme of study, each action of the Faculty of Business is designed to lead to what students are seeking: to have the same educational opportunities as the best faculties internationally, to be given the opportunity to obtain knowledge and skills that will make them respected and appreciated at home and abroad.
The Faculty of Business has become over time, through excellence in learning and development, a strong business faculty at regional level, with connections to local and international businesses. This is why many top companies seek to select their future employees directly from our faculty. It is also why business schools around the world choose to partner and create double degree programmes with us: there are over 70 partner universities of the Faculty of Business.
DEPARTAMENTS